Instead of looking for a new home in Orlando, FL, consider house remodeling.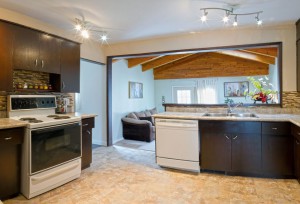 When you purchased your home, chances are you felt completely content with the deal you were getting.  You probably loved the colors, the layout and design, the yard, and the amount of space, which was perfect for your needs.  One of the most constant things about human nature is the need for change, progression or something novel.  As far as your home is concerned, this means that one morning you may wake up with an intense desire to change things in your home.  Maybe you want a new color of paint or new fixtures in the kitchen or bathroom.  Perhaps you feel that you need more space in order to be able to utilize your home fully.  Whatever the reason, before you go out and begin to look for a new home, consider house remodeling.
While it may seem like a good idea to simply purchase a new home that meets your needs, there are some definite advantages to simply remodeling your current home instead.  The first thing to consider is cost—will it be more cost-effective to do some simple house remodeling or to pack up everything and move?  The next thing to consider is your neighborhood. Is it safe?  Do you enjoy the company of your neighbors?  Finally, what is the stress level involved in house remodeling vs. moving?  Moving has been proven to be one of the most stressful things you can go through, which makes house remodeling look much more desirable.
At Eden Construction in Orlando, FL, we are committed to making your dream home a reality.  Our house remodeling services include consulting with you on your vision, informing you of things you can do to prepare for the remodel, listening to any concerns you may have, and keeping you informed of our progress.  We strive to complete your home makeover quickly, yet with quality workmanship and materials.  If you are ready for a quality house remodel, contact us today.
---
House Remodeling in Winter Park, FL