Acrylic windows are beautiful, durable, and secure and can even help lower the energy costs of your Orlando, Florida home!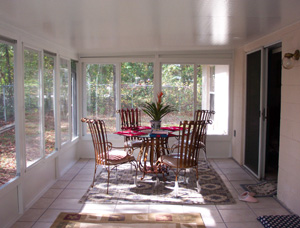 Is your home poorly insulated? Do you want to lower your energy bills? Do you wish you could bring a touch of the outdoors into your home without letting in the rain, dust, and pollen? A sunroom or screen room with acrylic windows could make your life Eden better!
Why should you install a sunroom or screen room with new acrylic windows in your home?
Shut out the rain, dust, pollen, and humidity.
Keep the cool air in with an optional a/c unit.
Open up the windows and enjoy when the weather is nice.
Add carpet or tile for a finishing touch.
Convert from screen room to enclosed space in a moment's notice.
Secure your porch with a 2-inch thick entry door and dead bolt lock.
Enjoy your new space in a variety of ways.
When we come to construct your new screen room or put in acrylic windows, you can expect that our workers will pay attention to every small detail so you are entirely pleased with the way your new screen room or sunroom looks with the addition of acrylic windows. Our workers will arrive at your home on time, be courteous and professional, and minimize the amount of disruption this remodeling project has on your daily life.
Our screen rooms and sunrooms with acrylic windows are beautiful, secure, and durable. If you'd like to learn more, contact us at Eden Construction in Orlando, Florida.
---
Acrylic Windows in Winter Park FL