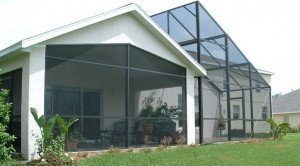 Eden Construction offers a variety of construction services to give you the home you've been dreaming of. From custom homes and mother-in-law suites to smaller additions and remodeling services, your options will seem endless. Here at Eden Construction, we also specialize in aluminum construction services to give you several unique room and space options that will add versatility and usability to your home. With Eden Construction, your home will be uniquely yours in every way.
Our aluminum construction services include sunroom and screen room additions. Both are a wonderful way to add functionality to your home, allowing you to feel closer to the outdoors without facing some of the harsh conditions. Sunrooms and screen rooms may both offer UV ray protection options. Both aluminum structures can also provide a bug-proof barrier while still allowing you to feel closer to your outdoor living space.
Sunrooms are no longer the small porch areas they used to be. With our aluminum construction services, you can now have a large enclosed area with vaulted window ceilings and high window sides. Like your own private sanctuary, these lighted spaces are ideal for relaxation all year round.
Our screen rooms can also be built in all sizes. This allows us to create new shapes and large structures to ensure you receive exactly the space you've been hoping for. You can see a variety of completed projects on our site or contact us today to begin designing your own custom project.  No matter your space or your budget, we believe we have the perfect solution for you.