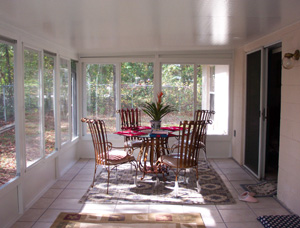 If your home doesn't seem to have the space that you need, you may be thinking about having a construction contractor build an addition. There are many different ways you can accomplish this, and a sunroom addition might just be the perfect choice for you for a number of reasons.
First of all, homes built without a formal living room never seem to have enough space for both family activities and entertaining. Adding a sunroom can provide you with the extra room you need as it can be used as either the family room or the formal living room.
Some homes are built with eat-in kitchens with no defined dining area other than that. A sunroom will give you that extra dining space that you may need every day or when you are entertaining. Having a nice place to dine can bring a family together at least once a day to talk about what is going on in each family member's life.
You could combine a reading area with bookcases, a relaxing sitting area with a fireplace and a breakfast nook all at once to give you and your family a nice place to go for a variety of reasons.
If you are ready to incorporate any of these ideas, or perhaps even something else, give us a call at Eden Construction. We build sunrooms within a 50 mile radius of Winter Park, Florida. Our sunroom additions include glass windows, electric, finished inside walls, flooring and window treatments, so your sunroom is ready to use as soon as we're finished. We are happy to provide free estimates and project consultations.