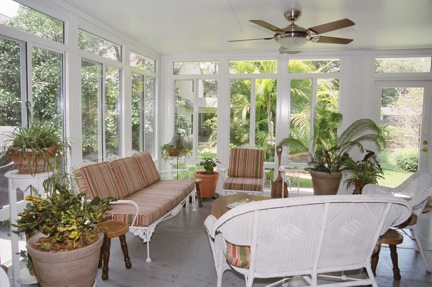 Planning for your new sunroom construction can be (and should be) a very exciting process. But it can also feel overwhelming as you have to make decisions about key elements like the best windows to install, which electrical components fit your needs and budget and making sure the walls are sturdy enough to withstand the weather in the long term. At Eden Construction, we have many years of experience with sunroom construction and one of the most important decisions we ask homeowners to make is what kind of roof they would like for their new sunroom.
We have two types of sunroom roofs and both are great choices for your new sunroom construction project:
Studio roof: This style of roof features a single slope construction, with the higher end of the slope attaching to your exterior wall. One advantage of this style is that you will only need to put a single gutter up along the edge. It can also be cheaper to heat and cool, with a lower flat ceiling and less volume of air. This strong, stable construction is cost effective as well.
Gable roof: This style of roof features a double slope construction, meeting at an apex in the middle. The gable height can be adjusted according to your home's architectural style. If you want a cathedral ceiling and skylights in your sunroom, this is probably the best choice for you. It will require two different gutters (one on either side) and typically costs more than the studio roof style.
When you are choosing a roof style for your new sunroom construction, there is no right or wrong answer. It is simply a question of your personal preferences, style and budget.