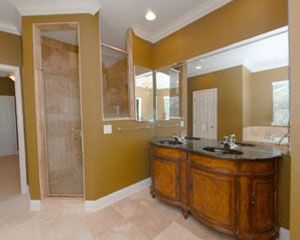 When many homeowners are considering a potential remodel, the room in the spotlight is often the bathroom, and sometimes it seems easy to just jump right into bathroom remodeling without paying it much thought. Here are some variables that we would urge you to consider before rushing right into bathroom remodeling.
Failing to consider your bathroom's ventilation system. This is an element of bathroom remodeling that, more times than not, is overlooked by homeowners. Failing to consider the ventilation system of the bathroom is something that could lead to some serious problems, one of which is the buildup of mold and mildew, which can grow rather quickly in damp environments such as bathrooms. Ensure your new bathroom has proper ventilation to prevent these issues.
Maximize the available space. Before the bathroom remodeling process even begins, it's easy to sweep yourself away in this dream bathroom you've envisioned. But do you have the space for this bathroom? If not, you'll have to be as creative as possible in order to get as close to the dream as possible. If you want to make your bathroom look larger, consider using glass doors for your tub or shower, or even use pedestal sinks.
As a homeowner, it's very important to consider every single aspect of bathroom remodeling before jumping in. We here at Eden Construct want to help you. Contact us and allow us to answer any questions you may have about bathroom remodeling.